Brilliant Henan Shines with the World!
-- Special Report byMedia Convergence Centerof Henan Provincial People's Congress andDAHE.CN: 'Bilingual Stories on Henan'
你奋斗的样子,惊艳了世界!
——河南省人大融媒体中心、大河网特别策划看出彩河南"国际范儿"
  Brilliant Henan shines with the world!
  你奋斗的样子,惊艳了世界!
  Focusing on Henan's advantageous location, flourishing industries, food production, ecological conservation, long history and splendid culture, etc., the Special Report on China's Two Sessions by Media Convergence Centerof Henan Provincial People's CongressandDAHE.CN: "Bilingual Stories on Henan" has been carried out to better tell the brilliant stories of Henan to the world. Today, episode one --"Henan Embraces the world with Open Arms"(Click here for more information)-- is launched to see how Henan fully leverages its advantageous location to build itself into a front-runner of opening up in inland China.
  即日起,河南省人大融媒体中心、大河网推出2020年全国两会双语策划,聚焦河南区位优势、产业发展、粮食生产、生态保护、历史文化等八个领域,展示在世界舞台上河南奔跑的印记。今天推出第①期《立足中原 面向世界》(点击看详情),看河南如何发挥区位优势,筑起对外开放新高地。
  Many state-level initiatives have been launched in Henan in recent years, including the Rise of Central China and Ecological Conservation and High-Quality Development of the Yellow River Basin. Henan gains an increasingly important position in China's balanced development and opening up, presenting enormous opportunities to unlock its potential.
  近年来,众多国家战略频频叠加中原,尤其是中部地区崛起、黄河流域生态保护和高质量发展这两大国家战略交汇叠加,河南在全国区域协调发展、对接全球开放格局中的重要地位日益凸显,大发展正当其时、恰逢其势。(记者 赵汉青)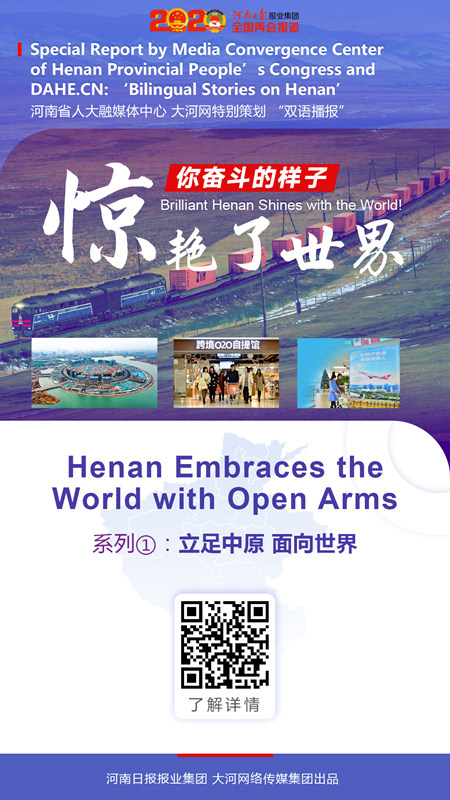 责任编辑:银新玉